Agile Coaching (ICP-ACC)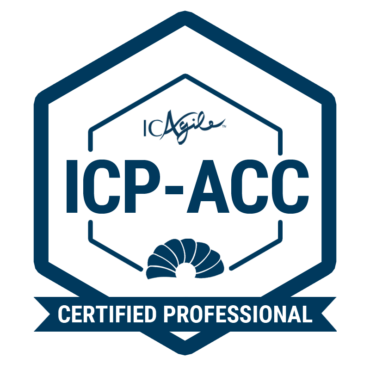 The class focuses primarily on the mindset, roles, and responsibilities of an Agile Coach. After finishing this accredited class, participants will be able to differentiate between and among mentoring, facilitating, professional coaching and teaching, and will also gain the skills needed to create a safe environment for meaningful collaboration and healthy conflict resolution within an agile team. This class also introduces participants to foundational team coaching skills and team development concepts for starting and growing teams while focusing on teams and organizations as human systems.
A key part of this certification focuses on developing an understanding of the professional coaching skillset and the value of honing these skills to serve individuals on an agile team.
This course offers one of two Continuous Learning Certifications (CLCs) on ICAgile Agile Coaching and Facilitation track. Upon attending this course, you'll earn the Agile Coaching (ICP-ACC) certificate.
Who Should Attend
Anyone involved in or seeking a leadership or coaching role in an agile environment:
Agile Coaches
Scrum Masters
Enterprise Agile Coaches
Project Managers/Leaders
Team Leaders
People Managers
Prerequisites
To get the maximum of this course, prior knowledge of the agile mindset and related practices and techniques is necessary.
To be eligible for the ICP-ACC certification, participants need to be an ICAgile Certified Professionals (ICP). This certificate is attained upon completing the Fundamentals of Agile Software Development training course.
It's highly recommended that participants complete the ICP-ATF class prior to this class
Upcoming Classes
Outline
Intro to Agile Coaching
The Agile Coach Role
The Agile Coach Mindset
Agile Coach as a Teacher
Agile Coach as a Professional Coach
Agile Coach as a Team Coach
Agile Coach as a Mentor
Working with High Performing Teams
Designing for Change
Working with Conflict
The Agile Coach Stances
Duration
Four days, from 9:00 am – 5:00 pm
Keep Me Notified