Agile Professional Testing (ICP-TST)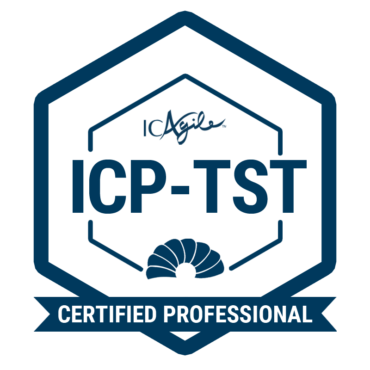 This course focuses primarily on agile testing techniques and processes in addition to the mindset and role of an agile tester. At the end of this training, trainees should be able to distinguish the different types testing on an agile project, and to understand how business, development, and testing personnel best collaborate on an agile development cadence.
In addition, trainees will learn agile test strategies and techniques related to release planning, testing within iterations, regression testing, performance testing, pre-deployment, and production support testing.
This course offers one of two Continuous Learning Certifications (CLCs) on ICAgile Testing track. Upon attending this course, you'll earn the ICAgile Certified Professional in Agile Testing (ICP-TST) certificate.
---
Who Should Attend
Junior/senior Testing Engineers
Software Quality Managers
Software Test Managers
Team/Project Leaders
Prerequisites
To be eligible for the ICP-TST certification, participants need to be an ICAgile Certified Professionals (ICP). This certificate is attained upon completing the Fundamentals of Agile Software Development training course.
Upcoming Classes
No upcoming classes,
contact us
for more information
Outline
Agile Testing vs. Traditional Approaches
Agile Testing Mindset and Culture
Types and Levels of Testing
Tester/Developer Collaboration Techniques
Continuous measurements and improvement
Example Driven Development
Roles and Responsibilities in Agile Testing
Test Strategy and levels of precision
Test Infrastructure and Environment

Build Automation and Pipelines
Test Data Management

Communication and Coordination in Distributed Teams
Duration
Three days, from 9:00 am - 5:00 pm
Keep Me Notified