Agile Project Management (ICP-APM)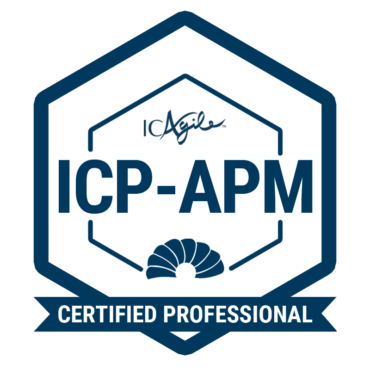 The agile project manager role is distinct from the traditional project manager. Agile project management focuses on equipping the project manager with strategies and techniques for successful Lean and Agile project implementation. A servant leadership mindset and approach is critical to empowering agile teams to produce great results.
In this course, participants will practice the role of agile project manager as a facilitator of agile practices towards achieving desired outcomes. This course also takes a much more in-depth look at the fundamental agile concepts of adaptive planning, customer collaboration, and value-driven delivery in dynamic and sometimes highly constrained environments. In addition, topics address agile approaches to standard project management processes such as metrics, reporting, and contract management.
This course offers one of two Continuous Learning Certifications (CLCs) on ICAgile Agile Management track. Upon attending this course, you'll earn the ICAgile Certified Professional in Agile Project Management (ICP-APM) certificate.
---
Who Should Attend
Project Managers/Leaders
PMO Heads
Pre-Sales & Account managers
Engagement Managers
Process Engineers
Prerequisites
To get the maximum of this course, prior knowledge of the agile mindset and related practices and techniques is necessary.
To be eligible for the ICP-APM certification, participants need to be an ICAgile Certified Professionals (ICP). This certificate is attained upon completing the Fundamentals of Agile Software Development training course.
Upcoming Classes
No upcoming classes,
contact us
for more information
Outline
Agile vs. traditional project management
Managing project constraints
Agile contracting and budgeting
Individual and team performance measurements
Project value metrics
Team and project chartering
Servant Leadership vs. command directing
Agile planning and progressive elaboration
Agile estimation techniques
Building collaborative environments
Duration
Three days, from 9:00 am - 5:00 pm
Keep Me Notified