Fundamentals of Agile Software Development (ICP)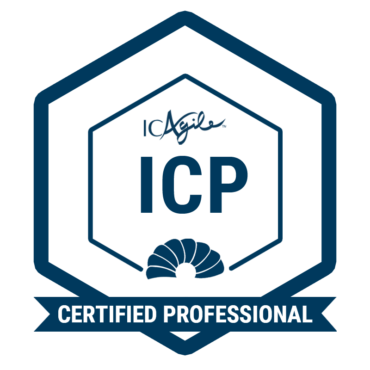 Agile methods excel in managing creative and complex projects because they foster collaboration, enable innovation, and insist on delivering value early and often. During this dynamic 3 days certification class, you will delve into key agile concepts such as:
Value-driven development
Adaptive planning
Progressive elaboration
Frequent feedback for continuous improvement
As a participant, you will walk away with a solid understanding of the processes and the environment of an agile project, and the tools and techniques used in delivering value the agile way. You will also walk away with ICAgile Certified Professional Certificate! ICP is an internationally recognized agile foundation certificate that allows you to further strengthen your agile knowledge and skills via many advanced and specialized certification courses.
---
Course Certification and Benefits
Upon completion of this course, participants will be eligible for the following:
ICAgile Certified Professional (ICP) certification
Participants will be listed on the ICAgile website, indicating their professional designation as ICP's and that they have completed all the learning objectives associated with the Fundamentals of Agile track
21 PDUs for PMI Certification holders
21 Contact Hours/PDUs with PMI for participants willing to take the PMI-ACP certification exam
---
Who Should Attend
Since the ICP is foundational and a prerequisite for certifications in all other ICAgile tracks, the ICP credential has the broadest target audience. It is appropriate for those new to agile, and for practitioners who recognize the need to focus on "being" agile in addition to "doing" agile:
Project Managers
Business Analysts
Product Owners
Team & Project Leaders
Developers & Architects
UI & UX designers
Testers & QA
Product Managers
Pre-Sales & Account   managers
Engagement Managers
Process Engineers
Prerequisites
There are no prerequisites for this course
---
What people say about this workshop?
After knowing Agile Academy and attending one of their agile courses, I can say based on my 20 years of experience in the software and telecom industries that "Agile Academy is the original agile reference in Egypt"

Ahmed Kamal – Director, NTG Clarity Networks Inc.
Great instructors! Very skillful, humble, passionate, teaching from personal experience, and very excited to show you the way. They knew how to grab ALL attendees' attention for the whole 8 hours/3 days! 
Whether you come from a good agile working experience or no experience at all you'll get to learn and ENJOY the course. Not to mention their care to provide the best hosting. THANK YOU!

Heba Yehia - Project Manager, Zlien
Thanks for such an amazing course … teaching by real life examples; this was a great point which cannot be achieved by reading materials or references alone .. You made us practice Agile and live the experience and not just learn what it is so; something that I'll never forget.

Neamat El Tazi, PHD - University Lecturer and Project Manager at Centrivision
The training was amazing by all means to me. It's the first time in my life to attend a course and gain knowledge in every minute and till the last seconds. You introduce Agile in a very simple way, a way that made me willing to do such experience in my work.

Rania Diwan, Testing Manager, IBM
Upcoming Classes
No upcoming classes,
contact us
for more information
Outline
The agile mindset
The agile manifesto & principles
Most widely applied frameworks and practices
Misconceptions about Agile
Agile roles & responsibilities
Overview of user stories
Agile estimating using story points
Release and iteration planning
Agile tracking techniques
Overview of agile technical practices
Duration
Three days, from 9:00 am - 5:00 pm
Keep Me Notified